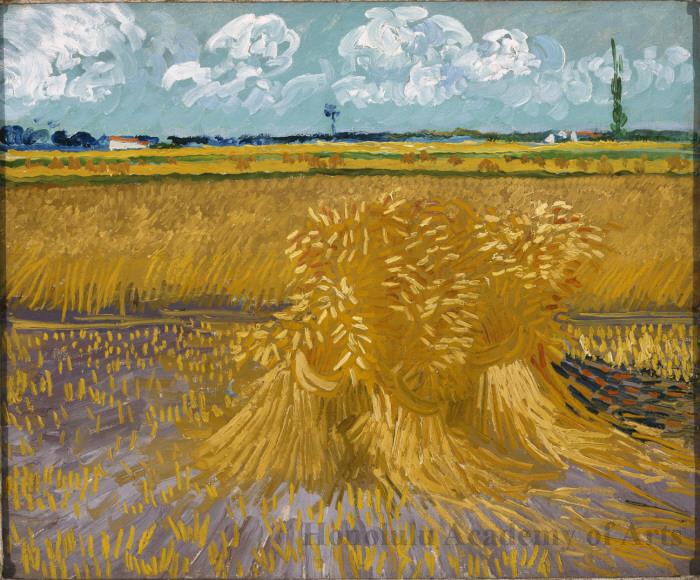 In a couple of weeks museum registrar Pauline Sugino is accompanying our van Gogh painting Wheat Field to Basel, Switzerland, for the exhibition "Between Earth and Heaven: The Landscapes of Vincent van Gogh" at the Kunstmuseum Basel. The museum has already lined up a long list of press to cover the uncrating of the painting.
Why the star treatment? Kunstmuseum Basel registrar Charlotte Gutzwiller explained that van Gogh's "Harvest" series—10 paintings completed in June 1888—is a focus of the exhibition, and our work is a favorite of Kunstmuseum Basel curator Nina Zimmer. "Your painting is one of the outstanding examples of this series and [Nina Zimmer] would like to present a major loan on this occasion. We had considered using one of our own van Gogh paintings, but to our chagrin, we don't have anything comparable in our collection," Gutzwiller wrote in an e-mail. I never stop being amazed at the Academy's caliber of art—in the middle of the Pacific Ocean—which Hawai'i residents can see whenever they want. Standing in front of the work, you can practically feel the Mediterranean heat and hear the rustling of the dry bundles of wheat, smell their earthy scent.
"Everywhere now there is old gold, bronze, copper, one might say, and this with the green azure of the sky blanched with heat," the artist wrote that summer in Arles. Find out how the Academy acquired this priceless painting after the jump. You won't believe how much was paid for it.
In 1941, then Academy Director Edgar C. Schenck had been looking for a van Gogh to add to the Academy's collection for a while. He had a wish list that included Velázquez, Watteau, Constable, Ingres or David, Delacroix and Matisse (he got three of those—do you know which ones?). George Eggers of the College of the City of New York's Art Department helped Schenck scout out some works—there is correspondence with Wildenstein & Co. in New York (now just as (in)famous for its connection to "cat lady" Jocelyn Wildenstein) and Dalzell Hatfield Fine Paintings in Los Angeles. Finally, in 1946, Morris Gutman of French Art Galleries in New York sent Schenck a brief letter: "In reference to our telephone conversation of this date, we wish to inform you that we are willing to sell the van Gogh for $30,000, because it is to go to a museum, even though this means only a very small profit for us."
In 1998, "Wheat Field" went to Paris' Musée d'Orsay, as part of the traveling exhibition "A Hawaii Treasury: Masterpieces from the Honolulu Academy of Arts." At that time, then Academy Director George Ellis received some correspondence questioning the authenticity of "Wheat Field." Then Academy Registrar Sanna Deutsch received verification from Louis van Tilborgh, Curator of the Van Gogh Museum in Amsterdam, that the Academy's "Wheat Field" is the real mccoy. In a memo to George Ellis, Deutsch wrote: "I have just received the attached fax from van Tilborgh…it reports that after the artist's death, the painting belonged to Johanna van Gogh-Bonger [the wife of Vincent's brother Theo], who in December of 1905 sold it to Paul Cassirer of Berlin. In 1908, Cassirer sold it to Margarete Mauthner of Berlin, and from 1905-1914, the period covered by Freilchenfeldt's catalogue, it is listed as being exhibited in Germany six times…In the scant history provided by French Art Galleries, in August of 1946, at the time that the painting was purchased, the dealers indicated that the work was owned by Mme Tony Lessing before it again was in the possession of Paul Cassirer in 1914-1930, who may have sold it to Wildenstein.…Following the Wildenstein references are listings including the collection of Morris Gutman, and then of Dalzell Hatfield Gallery, and of the source of our purchase, French's in New York.…It is really good news to learn, and to have sound documentation, that the work was in a van Gogh family collection during the now most infamous period for van Gogh forgeries, i.e. by the Schuffenecker brothers."
And that is how "Wheat Field" made its way from Arles, France, in the late-1800s to the middle of the Pacific, where Hawai'i school children see it every week.